KRU Kris Ramirez, Martial Arts Instructor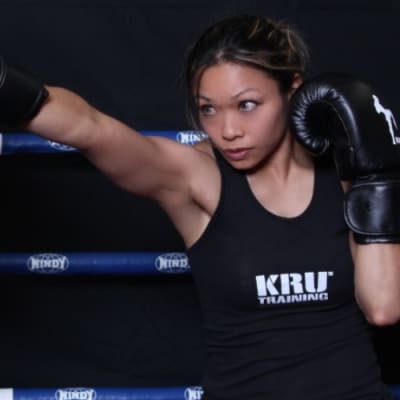 KRU Kris Ramirez
KRU Kris started her martial arts training over twenty years ago and has been teaching group classes, privates and competitors of 20 years. The following is a short list of her training history.
Black Belt in Tae Kwon Do
Certified Fight Like A Girl Women's Self Defense Instructor under renown BJJ Black Belt and Self defense Expert Steve Kardian.
Combat Submission Wrestling under Sensei Erik Paulson.
Title of KRU Kris under Master Ramirez in KRU Muay Thai.
Filipino Martial Arts directly under Tuhon Apolo Ladra in Pekiti Tirsia Kali representing the iKali - Art of Blade System at KRU Training/Filipino Kali Academy (FKA)
KRU Kris has traveled around the world and trained many people teaching Muay Thai and sharing the art of Kali. Her Women's Self Defense Workshops are alway in demand. She is a role model spreading the arts and inspiring male and female of all ages.
KRU Kris is available for private sessions and group workshops.