Norwood Kids Martial Arts
Our Kids Martial Arts Classes Introduce Students To The World Of Kali And Incredible Character Development
Are you looking for the best way to challenge your child and set them up for lifelong success? Then come see us today KRU Training in Norwood. We're helping students from all across Bergenfield and Tenafly take on the best blend of mental, physical, and emotional skills in no time.
We use the Kali 4 Kids system to teach effective self-defense skills for students of all experience levels. This program includes tailored training for ages 4-6 and 7-12.
Fill out the short form on your screen to learn more!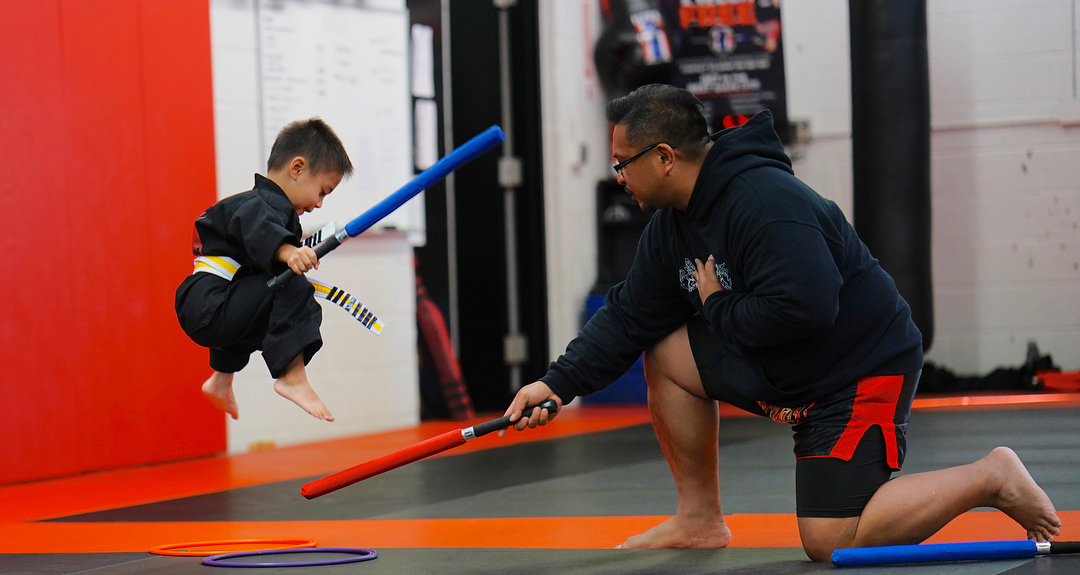 What Makes Our Kids Martial Arts Classes So Special?
At Filipino Kali Academy, we're not simply offering the cookie-cutter approach to Kids Martial Arts that you might find in schools all across the country. Instead, we're using the skills and strategies of Kali as a foundation for effective self-defense skills and well-rounded physical development.
Our Kali 4 Kids program is held in a safe, supportive environment where your child can learn everything from empty-hand self-defense and ground grappling to impact weapons and self-defense skills in any situation.
We're proud to help students across Norwood, Bergenfield and beyond develop:
Strength and total-body coordination
Proven self-defense strategies
Healthy habits of physical fitness
Motivation to stay active and challenge themselves
And Don't Forget: Our Kids Martial Arts Classes Focus On Vital Character Development Each And Every Day
There's nothing our students love more than challenging their bodies and showing off their new skills. But we know how important it is for our students to develop more than just physical success in our system.
They need to learn how to be effective leaders and respectful friends and disciplined learners. They need to learn how to face down a challenge and persevere through anything life puts in their path.
At KRU Training, we're working hard to make that happen.
Our Kids Martial Arts classes are setting students here in Norwood and across Bergenfield up for success with skills like:
Communication and conflict resolution
Focus and attention to detail
Unwavering self-confidence
Discipline in all aspects of life
Learn More About Our Kids Martial Arts Classes Here In Norwood Today!
If you're looking for the best way to set your child up for success, look no further. Our Kids Martial Arts classes are helping students all across Norwood, Bergenfield, and Tenafly thrive - and we can't wait for your child to be next.

Learn more about everything we have to offer here at Filipino Kali Academy. Just fill out the short form on your screen!